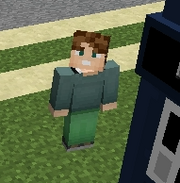 Alfie Owens, son of Craig Owens, first appeared as a baby in 'Closing Time'.
The Doctor
later picked him up as a young teenager at the beginning of
series 2
to assist him in the search for the Key to Time. The Doctor later discovered Alfie
is
the last segment of the Key to Time. Alfie used the Key's tracer to transform himself into the segment just before he fell into lava.
Bobby Johnstone voiced the character in all the episodes.
Appearances
Edit