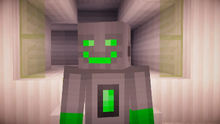 The Green Cross is the fourth episode of The Valeyard.
Previous Episode: (M)ethanol
Next Episode: Tale of a Time Lord
Ronald Kirkson by Timelord Gamer
Mayor Hammond by Elliot Reynolds
The Director by Matt Moore
Patient by Harry Dunkley
Riley by Logan Griffiths
Tucker by Matt Moore
Larry by Logan Griffiths
Gralexy was first mentioned in The Valley of Peace as "aliens working with the government".
The Enderman the Doctor uses to teleport back into the Valley can be seen in the same area in Arabah.
The portalroom under the embassy is based on the portalroom in Gravity Falls, with the same music playing when the portal opens in the show.
The planet Gralexy is just a slightly edited Mondas from Whoville. The Grals are based of the co owner Gralex.