The Siege was the pilot for Minecraft Doctor Who. It consisted of four parts which were all around 3.30 minutes long.
The final part ended on two clifhangers. One led into the Dragon Planet, the first story of series 1, and the second into the final story of series 1, Mission to the Sun.
Next series: Series 1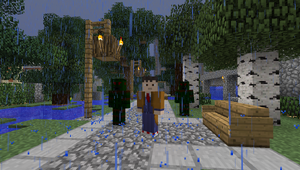 The Doctor
lands
the TARDIS
in a nice, sweet village. But after being shot by an 
Ice Warrior
, he knows not all is what it seems.
The characters didn't have any voices yet, so all dialogue was presented as flying text.
The town of Keralis has been revisited many times. At first in The Terrible Zodin, even recreating the opening shots. It also had minor appearances in The White Guardian and Tale of a Time Lord.